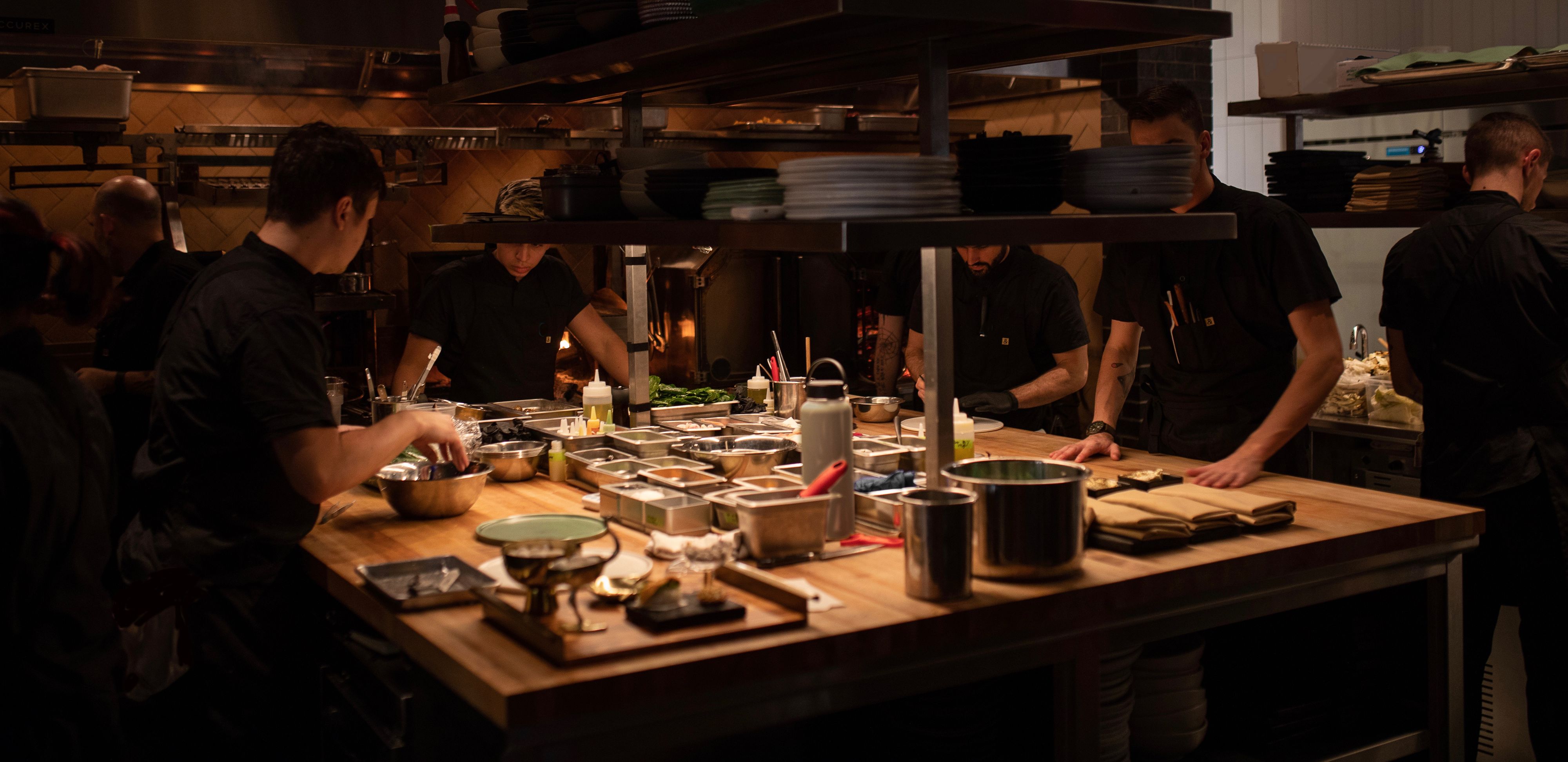 Goddess of the hearth
Our dishes find inspiration from a custom 20-ft hearth which anchors the kitchen and dining room. Snacks, small plates, and entrees allow an opportunity to explore and showcase techniques that highlight the role of fire in food. Hestia's chefs, in order to provide a deeper look into our food philosophy and how we create, play an integral role in service and directly interact with our guests.
pan de cristal | cultured cream, honey, blackened pecan | 14
small plates
oysters | smoked pear, verjus foam | 24
black bass | baby lettuce, tangerine, turnip oroshi | 18
scallop | beef tallow, finger lime, apple | 28
wagyu beef carpaccio | radish, sea lettuce, puffed nori | 17
cabbage | buttermilk, mustard greens, smoked chili XO | 15
broccoli | bay laurel bearnaise, black pepper, horseradish | 15
burnt ends | smoked brisket, embered beets, mandarin, mint marigold | 17
entreés
halibut | fiddleheads, snap peas, brown butter | 38
berkshire pork chop | smoked carrot, charred lime, pecans | 46
red ranger chicken | preserved lemon, smoked maitake, pea tendril | 38
lion's mane mushroom | cauliflower, blackened koji, charcoal | 32
dry aged 6oz wagyu ribeye | potato croissant, charred shallot | 62
dry aged 8oz wagyu bavette | monk's pepper au poivre, fermented sunchoke, charred green onion l 58
dessert
s'mores | chocolate caramel mousse, graham cracker, meringue, pumpkin amino, citrus | 14
milky-whey | goat milk sherbert, caramelized whole milk, chocolate candied pecans, whey bubble, lime | 12
matcha lavender kakigori | lavender syrup, salted cream, oatmeal ice cream, matcha, chocolate | 16
sourdough buttermilk ice cream | bread amino caramel, sweet tomato & orange jam, fermented tomato powder | 12
Reservations
Open 5:30 – 10pm Tuesday -Thursday + Sunday
5:30 – 11pm Friday and Saturday. Closed Mondays.
Call 512.333.0737 or book below with OpenTable.
Reservations required for parties of 7 or more.
Contact + Location
hours:
tuesday-thursday, sunday 5:30p-10p
friday-saturday 5:30p-11p
closed monday